about 2 minutes, please wait.
A downloadable game for Windows
This game is NSFW. It contains very low-res pixel nudity, suggestive themes and bugs.
This game has been made for the game by it's cover 2017 game jam. Full details of inspiration are at the bottom of the page.
You play the role of a tourist who ventures into the slums to discover bored housewives with an interest in exhibitionism, and, their yobbish husbands with an interest in punching.
This highly skilled game involves moving left and right to position yourself in front of a window when she strips, but make sure her Husband doesn't spot you, or you'll get punched. See everything in two minutes - or you're out of lives - and you win... nothing. You can also see how long you can gaze into the windows without being caught... again you win nothing.
Try to light up all the icons. You light one up by seeing the woman in that state and not getting caught. The peep time at the bottom keeps track of how long you are active in front of a window as the woman is undressed and you don't get caught. You get five lives and lose one every time the husband catches you. Once you're bored press escape to exit.
This is my first game and first game jam. That is also my first excuse. Thanks for playing.
This game has been made for game by it's cover 2017 jam and based on http://famicase.com/13/softs/28.html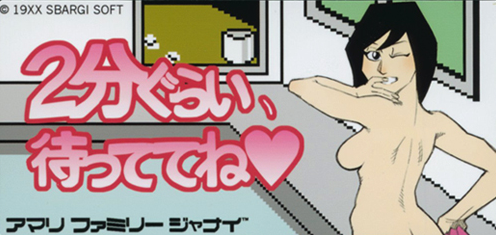 About 2 minutes, please wait.
Vittorio Giorgi / Comics Artist
(English translation) In this adventure game, while seeing the famous places in Hokkaido, you can see a mysterious girl with a very charm! Moreover, if you wait for about two minutes, a girl who will show you the beauty hidden in each place will come up! The goal of this game is to wait for 2 minutes in the proper situation and discover all "Himi". Good Luck!
Download
Download
2 Minutes 2D - Build 0.3.3.zip
14 MB